The Purple Bananas games act as building blocks on each other—adapting to what your children already knows, reinforcing new knowledge, rewarding effort, and gradually increasing in difficulty. Unlike traditional methods of learning, playing the games just feels like having fun. Your child will be strengthening their language development and academic potential, without even realizing it! And as your child's skills increase, so will their confidence.
Designed for children diagnosed with developmental disabilities or Autism Spectrum Disorder, Purple Bananas is also appropriate for early learners of any ability.
How It Works
Get the App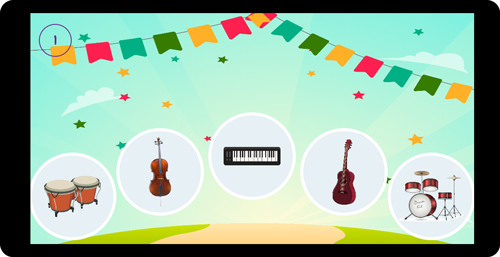 Measuring What Your Child Already Knows

During the first game, Purple Bananas measures your child's skill sets, determining which areas they already know, and which areas they need to learn.

Building New Skills

Your child begins to build skills through fun, engaging games that focus only on the areas where improvement is needed. Each game lasts just a few minutes. By selecting correct responses, your child earns "breaks" (like balloon popping or jungle animal sounds) that reward their progress.

Measuring Progress

Once your child reaches a certain checkpoint, they'll be tested to measure the skills targeted by the game. If they need a little more improvement, the game will continue helping them to build skills.

Maintaining Skills

The game ensures that your child retains what they have learned over time by occasionally testing them on the skills they have worked on and providing more strengthening exercises if needed. Once your child has mastered the level, they graduate to the next level.
Get the App
Purple Banana is available in two versions: Basic and Pro. The Basic version includes a wide range of content and can be used by anyone, with no referral necessary. The Pro version is available for clinicians to customize according to the individual needs of the children they work with.
I Have a Referral
Don't Have a Referral